ARTICE LIBRARY: LOG HOMES 101
As you begin your log home research, it rapidly becomes evident that there's a lot more choices than you ever thought possible. Log homes come in many shapes, sizes and dimensions; furthermore, the logs themselves are available in just as numerous versions. Once you choose the appearance you most desire, you can focus on suppliers and builders that provide your style of logs.

Log Homes Types

There are two categories of log homes: milled and handcrafted. Initially, you might not recognize what you're looking at; however the following are some fundamentals to assist in distinguishing the two. A handcrafted home means the logs are peeled and notched manually, and in some cases, each log is scribed (to mark or score wood with a pointed instrument as a guide to cutting or assembling) to fit exactly on the top of another. In several handcrafted houses, the logs are stacked alternately; therefore, the large finish of the log is stacked on the top of the tapered finish from the log beneath. A milled log home features logs that are a uniform fit, as well as been cut to suit together. An example of this is using Swedish cope or tongue-and-groove to ensure that they stack easily and evenly. There is broad cost distinction between a handcrafted versus a milled log home. This is mostly due to more labor needed to construct a handcrafted home, as well as the larger diameter of logs used. Milled log homes represent the vast majority of homes built today.

If you notice a log home with chinking and round logs, that's an initial indication this is might be a hand crafted log home. Chinking was in the past a mortar-like material which filled the gaps between your logs. Modern science has produced a polymer compound that grows and contracts between the wood logs.. If your hand crafted log is not scribed, then chinking is essential since logs leave some gaps along their length. Many people use chinking as an aesthetic feature even though it no longer serves a functional need; however, typically milled log houses are not chinked.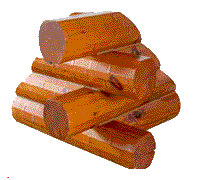 The corners of the log home also have a number of style variations. The joinery and profile system from the log is often reflected by its finish. For example, on the handcrafted log home you will see the various diameters from the stacked logs. To stack them, the corners are going to be notched to ensure that each log sits on the log below it. A milled log that is saddle-notched will stack exactly the same way (obviously, every log will appear to be identical). Since saddle-notched logs are staggered, course-to-course, the log finishings will display on the inside corners of the home as well as the exterior. This provides an extremely rustic appeal.

Butt-and-pass corners provides you with a finish where there is a gap between every other log. The reason for this is one log's butt is the intersecting log, which runs past it. The logs are laid on a single course to ensure that using the interior corners of your house, the logs can come to some squared edge.



Milled logs have many joinery systems of which to select from. Today, typically the most preferred joinery is known as a "Swedish cope". Each log is cut to fit tightly around the curve from the log underneath it. This provides a very smooth, natural look. Another joinery product is the tongue-and-groove, or double tongue-and-groove with respect to the manufacturer. The tongues are cut into the top the log and corresponding grooves at the end. These produce a tight, neat fit and are easy to stack. An early American notch known as the dove-tail in the industry is referred to as a mortise-and-tenon notch and is usually cut into squared timbers. There are a number of other joinery corner systems to choose from; however, these are the most commonly used.





Above: left is Swedish Cope, middle is tongue-and-groove log, and right dove-tail logs

Log Home Profiles

The form, or profile of the log is yet another characteristic which will determine what type of home to build. Many prefer a "D" log, that is round facing the outdoors and flat from the interior view. It provides a horizontal wood-paneling look. Others prefer a round log, which is a bit more of a rustic look but can present a number of issues including how to join the logs to the sheetrock. Squared timbers give a more Appalachian look to the house and are usually tall and very narrow, and therefore are frequently grooved for the use of chinking.

The typical milled log home uses pine logs in 8" and 6" diameters. They also come in 12" and 10" diameters. However, anything larger than 15" will more than likely move you into a hand crafted home. Cedar plank logs are an upgrade, and are available in 6", 8" and sometimes 10" diameter. Less common woods such as cypress, fir, oak, hemlock, poplar, larch, walnut, and brighten are also considered an upgrade.. Due to the highest log care items currently available that safeguard all of the logs efficiently, the wood species becomes a matter of personal taste. The very best guideline when selecting log species would be to choose a wood that is indigenous to your region.

Log Homes ARE Green!

Newcomers are constantly amazed to uncover that logs store their very own insulation. To compare a stick-frame wall to a log wall using the "R-value", a measure to indicates an insulation's resistance to heat flow, is not evaluating "apples to apples". Logs possess a lower "R-value" than insulated 2x6 walls. However, they focus on the main of thermal mass. Due to the cellular structure of logs, they have a tendency to soak up the warmth and store it for longer than traditional walls. The logs absorb the warmth in the interior of the home (or from the sun, if facing south), so that when the temperature drops during the night, the walls will generate that warmth into the house before temperatures equalize. This means they take more time to warm-up, and in turn warm considerably longer. On the other hand, they stay cooler within the summer season.

Some producers have a half-log system, in which the logs are attached outdoors as well as inside to 2x4 or 2x6 stick-frame walls. This adds the additional "R-value: of an insulated wall, together with the insulating properties of the log itself. This also makes it simpler to set up electrical wiring. Ultimately, half-log systems are a little more costly than full-log due to the higher price of the lumber. However they do provide the added capability to vary the inside of your property so that some interior walls may have applications such as sheetrock, stone, or tongue-and-groove. Many modern producers make use of the half-log system on the second floor. This is due to so many large windows in usewhich could displace a lot of logs and then the integrity of the wall would be jeopardized. Also, since the large windows settle at a different rate than the logs, the stick-presented second floor equalizes the entire settling. Using the best producers, you will not be able to tell where the outdoor full logs finish and the half logs inside begin.

Log Home Design

Almost every log home producers has an in-house architect or partners with an architect who can configure your desires to fit their system. It is not recommended to consult with an architect that does not already have an established relationship with the manufacturer you are working with. It will end up costing you more money in the long run. You can begin with stock plans the artichect will have and then select from some alterations to suit your needs. Or you can work with the architect to design your home from scratch using your ideas, rough sketches and photos of homes you like. If you prefer a ramp up, the maker may have some stock plans that you should select from, and alter to suit your needs. Or else you can design your house on your own, and provide them a tough group of sketches that they'll devise some building plans. This particular service is generally offered at no extra charge; however, there might be an up-front fee that is then credited toward the total price of the package.

Log Home Turnkey Building

It will save a lot of time and effort to obtain a "turnkey" cost in regards to the logs, the lumber, the home windows and doorways, and also the roof - which is what the industry refers to as the "endured-in spend". However, this complete system is only sensible if the manufacturer is in the same area as you; otherwise, you will be investing thousands of dollars to ship regular lumber across thecountry. In the end, there's no distinction between roof utilized whether on a traditional home or a log home.. The type of roof is your personal selection. This is true for the flooring, the doorways, your kitchen, and also the heating system. Home windows can be a little tricky and you will need to look for a manufacturer that is willing to create an extended window-sill (or jamb) to support the thickness of the logs. However, most major window companies can accommodate this.

Remember that log homes are custom. Just like when working with a development builder, there is not a certain selection to stick to in regards to kitchen areas or bathrooms. The options are unlimited if your budget is as well. You will have to research these and determine what fits your tastes, style, functionality and budget. Most producers do not want to possess anything related to the interior aesthetic that is not their area of expertise. You can use any type of foundation you would like; however you will need to work with a local contractor or builder to accomplish this.

Log Home Maintenance

Log homes are not maintenancefree- nor should they become extremely laborious. Even though items on present day market perform a fantastic job of safeguarding the logs from sun, rain and bugs, there needs to be a re-application every 3 to 5 years with respect to the wall exposure. This "maintenance coat" is a lot simpler to use compared to original jackets of stain. It is no longer necessary to remove that old first coat. Therefore it is easier than it sounds. It is necessary to inspect the logs at least one time annually for excessive cracking (or checking) - particularly when the check opens upward, developing a water trap. These have to be caulked on the outside of walls. Also, fit everything in inside your energy to direct rainwater from the house for those who have an overflowing gutter, cope with it at the same time. A moist log draws in rot and bugs.

Summary

Expect your log home to take between four to twelve weeks to build. This is dependent on your weather, how quickly the builder's crew works as well as your own planning. The most crucial factor you need to arrange for is safeguarding the logs and also the lumber from the elements. Designate a sizable space (ideally on a bed ofgravel) solely for the logs as you wouldn't want them relaxing in the dirt. Use a tarp to keep the gravel covered until the logs are delivered and then tarp over the whole pile after removing the plastic wrapping the logs are shipped in. This will eliminate mildew growing. The logs are likely to get scattered because the crew picks through them, and they are getting walked on and thrown around. They will get rained on, and you will be amazed how rapidly the logs weather. If you are also have home windows shipped with the log package, then it would be best to rent a storage unit for use on site to keep them in.

As you may have already realized, homeowners who build log homes tend to be hands-on compared to other forms of home construction. Log home clients are often well educated with the process before they get started - and they should be! Cost overruns are frequently triggered by unforeseen difficulties. Since your property is one-of-a-kind, you face significant challenges. Luckily the industry has matured a great deal and the internet makes it much the learning curve much quicker and more accessible for those wanting to build a log home so you are not on your own.